Devin Vodicka
This was originally posted to https://learnercenteredleadership.blogspot.com/ on May 3, 2020.
Last week a coalition of partners organized a free, online summit called "A New Way Forward." Our organization, Altitude Learning, partnered with Boundless, Design 39 Campus, Education Reimagined, Getting Smart, and Big Picture Learning to put on the event. Using social media, a few emails, and word of mouth, close to 2,000 people participated in the two-hour virtual convening.
We created a website, posted links to zoom, and used the online chat for conversation. Feedback from participants has been amazing, with 94% of survey respondents indicating that they were Very Satisfied or Satisfied with the summit. 95% of participants said that they would like to participate in future summits. Here is one of the many favorable comments:
Every part of the event was a highlight for me. Over the past six weeks, I've attended several PD events and gatherings related to education. I would say that the summit was the best by far. All of the keynote speakers were great and the breakout session that I attended what very informative. I hope to there are move events like this in the future.
While all of this was possible before Coronavirus, it never happened until now. So what happened? Why now? What lessons can we learn? While there are many, many factors that went into the creation and success of the convening, a few things stand out from my experience with this incredible gathering:
Inclusive Possibilities: It began with a credible leader, Principal Joe Erpedling from Design 39, reaching out to a small number of trusted partners and asking "How might we …?" This flows from the strong emphasis on human-centered design thinking at the school and is also part of the collaborative identity at the school (and embodied through Joe).
Trust Matters: The small coalition that emerged included sets of leaders who had high levels of relational trust for one another which quickly extended throughout the team. For example, Emily Liebtag, the dynamic co-founder and CEO of Boundless, previously worked at Getting Smart. The strength of our pre-existing relationships enabled us to come together quickly and to embrace flexibility throughout the process.
Believe That We Will Rise Together: So many amazing people said "yes" when asked to engage. That includes the keynote speakers Maya Green, Yong Zhao, Pam Moran, and Carlos Moreno as well as an incredible lineup of breakout session presenters.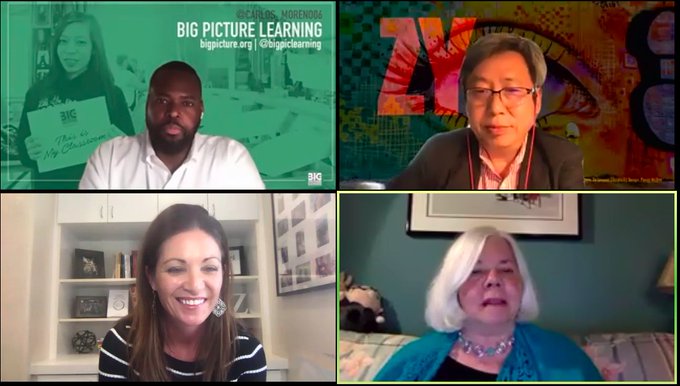 Keynote Panel (clockwise from top left): Carlos Moreno, Yong Zhao, Pam Moran, and moderator Katie Martin
So why had we not done this before? Given the fact that we had a catalyst, a leadership network, and so many who leaned into the opportunity, why had we never come together in this way? While the opportunity always had been present, the need was obscured before COVID-19. There were other fantastic, in-person events such as SXSW Edu, ASU-GSV, and ISTE where we typically came together. Now, without those conferences, we were not able to rely on existing systems and routines. What are the routines or structures for you that are now gone? How might you see the moment as an opportunity to co-construct something new?
In addition, the need for learner-centered education has never been more clear. It is more obvious now that the world is rapidly changing and that our learners need to be able to self-manage, self-organize, and then connect to solve real-world challenges. I am encouraged by the way that "A New Way Forward" emerged through such self-organization and collaboration. Indeed, the new way forward will be a community movement. The new way forward is together. The time is now.
The unanimous agreement by first hour presenters that the Covid-19 crisis, with the enormous problems it both creates and reveals, is also an unprecedented opportunity to make lasting positive change.
– Participant, A New Way Forward